Студентка МВШЛ получила звание 'Лучший студент - 2023' на конкурсе СНГ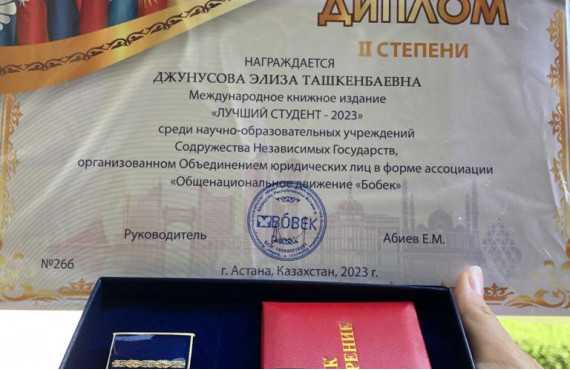 Students from different countries of the Commonwealth of Independent States (CIS) gathered in Nur-Sultan, Kazakhstan, to participate in the prestigious "Best Student of the CIS" competition. Students from Kyrgyzstan, Kazakhstan, Uzbekistan, Tajikistan, Belarus, Russia, and other countries showcased their talents and abilities during this event.
The organization of the competition was undertaken by the International Student Association with the support of the Association of Legal Entities in the form of the "National Movement 'Bobek'". Thanks to their efforts, students from the CIS had the opportunity to demonstrate their skills and gain recognition.
A special congratulatory speech should be addressed to student Eliza Tashkenbaeva from MVSHL, who was awarded the title of "Best Student - 2023". Her achievements and dedication to her studies are deeply admirable. Eliza Tashkenbaeva demonstrated outstanding knowledge and diligence worthy of this title.
We are proud of Eliza Tashkenbaeva and all the participants of the "Best Student of the CIS" competition. Their commitment to education and pursuit of high achievements inspire other students to strive for similar accomplishments.
Undoubtedly, the "Best Student of the CIS" competition has become a platform where talented youth from the CIS could showcase their potential and share experiences with each other. This event helps foster the student community, promotes cultural exchange, and creates a favorable atmosphere for future cooperation among CIS countries.