Kettering University Receives IDEAS Grant to Offer New Study Abroad Experience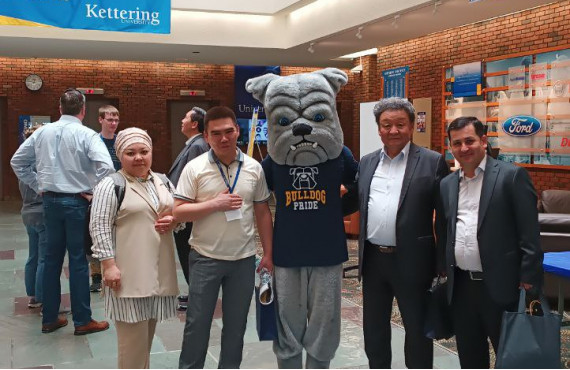 Kettering University students will have the opportunity to enhance their entrepreneurial studies with a program focused on international learning and collaboration and topped off with a 10-day trip abroad thanks to an Increase and Diversify Education Abroad for U.S. Students (IDEAS) grant from the U.S. Department of State.
The University is one of just 34 U.S. institutions to receive the funding. Kettering will use the $34,914 grant to create and pilot a Collaborative Online International Learning (COIL) course experience between Kettering and Kyrgyz State Technical University (KSTU) in central Asia.
"It's important in several ways, but the primary objective is to expose Kettering University students to non-traditional study abroad locations, cultures and opportunities," said John Grether, Professor of Practice in the Kettering School of Management. "It also adds an important element of international understanding to the School of Management's nationally recognized Innovation and Entrepreneurship major concentration and minor programs."
During the COIL course, students will develop plans to sell products or services across international boundaries. Although content and activities will be virtual, students will have the opportunity to add a 10-day trip to KSTU to meet their project teammates, engage in local culture, and meet with local business leaders to discuss their ideas and opportunities for commercialization.
By adding an international element to the course, students will be exposed to various market opportunities.
"Education abroad and international education should be accessible to everyone, regardless of background or career path," said Laura Mazzeo Allen, Director of the Office of International Programs. "It is important to find ways to build in international opportunities that overcome any barriers that Kettering's rigorous 11-week schedule can pose. Offering COIL and short-term programs allow accessible opportunities to gain important skills such as critical thinking, cross-cultural communication competence, self-confidence and other important soft skills needed in the workplace."
She said participating in a short-term program could inspire students to take part in a long-term program, which offers expanded benefits.
"These programs have shown to assist students in maintaining higher GPAs, help students in deciding on their career path after college and increase their post-graduate career options," Mazzeo Allen said. "Many employers are looking to hire students with international experience and the ability to function within a diverse environment."
Kettering offers several long-term study-abroad programs in South Korea, Germany, Austria and Spain.
The IDEAS program aims to develop and expand study abroad programs around the world. Since 2016, the IDEAS Program has awarded 179 grants to 173 U.S. colleges and universities in 49 states and territories to create, expand and diversify their U.S. study abroad programs in 71 countries across all world regions.
Gallery