Novikov proposed to develop industrial and tobacco clusters in Batken region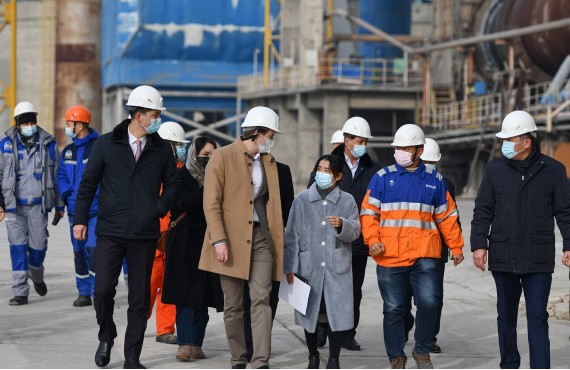 First Deputy Prime Minister (Acting Prime Minister) Artem Novikov, as part of a working trip to Batken region, visited the production enterprises of Kyzyl-Kiya. This was reported by the press service of the government.
So, acting The Prime Minister visited the slate production plant built by the Kant Pipe and Slate Enterprise LLC in 2020. He noted that in the future it is necessary to form a full-fledged industrial cluster, where conditions will be created, from the extraction of raw materials to the production of products, including for export.
Novikov promised maximum assistance from the government in the implementation of the company's plans to expand and modernize. He expressed the hope that by next year additional lines for painting products, announced by the head of the enterprise, will be launched at the enterprise.
Further, Novikov visited the South Kyrgyz Cement plant, which is currently partially working due to the spread of coronavirus.
And about. Prime Minister, together with the head of the enterprise, discussed problematic issues and measures to support the enterprise from the government. The issue of the arrival of foreign specialists was also discussed, together with whom the issues of modernizing the enterprise will be worked out, including increasing the volume of products to launch the plant at full production capacity, and in the future - exporting products to Uzbekistan.
In conclusion, Novikov visited the idle Kyzyl-Kiy tobacco fermentation plant, which provided jobs for more than 450 people.
He examined the enterprise and instructed the governor of Batken region, together with international partners, to consider the issue of creating a full-fledged tobacco cluster, starting from the cultivation of tobacco, its fermentation and export to enterprises engaged in the production of tobacco products.
"Modernization of the enterprise will provide jobs for the local population, social contributions will be made, including to the republican budget. We will always assist such initiatives, "concluded the acting heads of government.
Gallery