II Bishkek Logistics Forum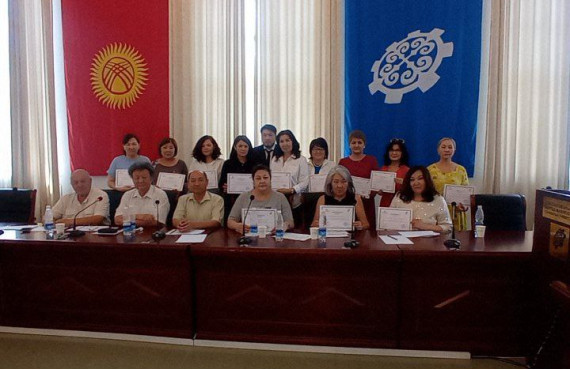 July 1, 2022 at KSTU. I. Razzakova hosted the Second Bishkek Logistics Forum - "Sustainable Development of Logistics in the Kyrgyz Republic".
The initiator of this forum was the Department of Logistics of KSTU in 2021, then the "First Bishkek Logistics Forum" took place, at which it was decided to hold the Bishkek Logistics Forum annually. Despite the very tight schedule, it was decided not to postpone the date of the forum in this year.
At the opening of the forum, with their welcoming speech: Chynybaev Mirlan, rector of KSTU named after I. Razzakov, Kamrul Hassan, Regional Procurement Manager of the World Bank, Danny J. Cho, PhD of the University of Pennsylvania, USA, Professor of KSTU, President of the Global Technology Solutions company, Dr. Hasib Ahmed - Dean of the Kettering University School of Management., Khalil Kajiev - National Coordinator of PECA GIZ., Yerbol Mukaev, Representative of the Royal Institute of Logistics and Transport (CILT) of the UK in Central Asia., Tobias Reggelin - OVGU Magdeburg., Tobias Beylike - Head of the International Department - Sigma Clermont., Peter Tamas - Associate Professor at the University of Miskolc (Hungary). Kuzmichev Igor - Rector of the Volga State University of Water Transport.
The forum program consisted of two sessions - "Analysis of big data in public procurement" and "Logistics of urban and international transport."
Graduates and doctoral students of the Department of Logistics made their presentations at the session "Analysis of Big Data in Public Procurement", several directions for future research were generated, forum participants actively exchanged ideas and asked questions to the speakers.
At the session dedicated to urban and international transport, one of the most interesting reports was the report by A. Kydykov on the topic of possible railway routes from China through Kyrgyzstan to Uzbekistan.
Also, at the second Bishkek Logistics Forum, a training course was presented, developed by experts from the World Bank and the Department of Logistics - "Application of elements of behavioral science in public procurement." The experts who developed the course conducted training from June 20-22 for future teachers of this course, and at the forum the participants of the training were awarded certificates of completion of the training.
The forum was successful, as it turned out, many plans and ideas voiced at the first Bishkek logistics forum in a year were translated into reality. The annual Bishkek Logistics Forum has become an excellent platform for generating ideas, exchanging thoughts and coordinating the actions of all stakeholders.